We Offer Golf Cart Makeovers
Golf carts are used mostly by people who take up golf as a hobby so the idea of golf cart makeovers is exciting. Offers are usually use these cards to get around the green in a quicker to speed up the game. There are some people who use golf carts for other reasons as well. Many people use golf carts as a means of showcasing their artistic design. Some people like to put body kits on their golf carts and drive them around to show them off. This article is going to explain some of things you can do to customize your golf cart. Since we offer golf cart makeovers at our company, we feel that we are an expert in this area.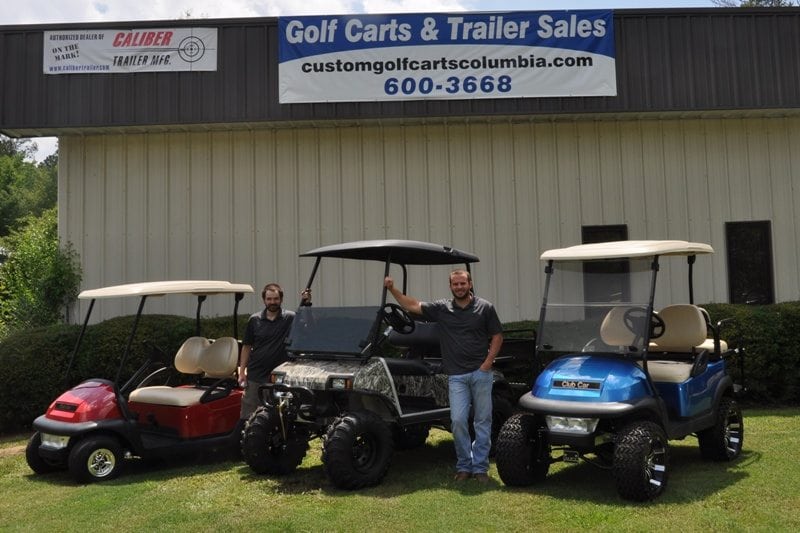 The three main things that most people do to customize their golf cart is get a body kit, modify their engine, and they also add endless supplies of cool accessories. This allows the owner of the golf cart to cruise around in style, which is the main reason most people want to customize their golf cart.
Golf Cart Makeovers For Street Legality
Since we offer golf cart makeovers, we try to keep them street legal for the users. Nowadays it is normal to see a golf cart not only in the green, but also in the streets. If you pay attention, you see that many people actually use golf carts for their day-to-day job. You will see police officers on college campuses use golf carts to get around quicker, people in parades use golf carts, and street patrols you use them as well. Even though you still see beige carts normally, this era is starting to phase out. People are now customizing their golf carts to fit their personality and to put out a great performance.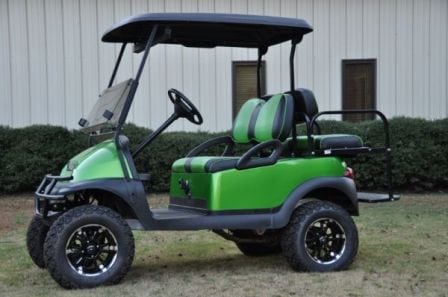 There is an incredible amount of options that you can choose from to increase the performance of a golf cart. One option that many people choose, is to increase the front and rear suspension of the golf cart so it can have better off road performance. Many people also upgraded engine so the cart go faster. With so many options to choose from, the sky is the limit when choosing how to increase the performance of your golf cart.
Customize Golf Cart Looks:
You don't have to opt for the original golf cart look anymore. You can transform your golf cart into any artistic piece that you like. If you want to go with all camouflage because you like to hunt, this is possible. You can also put a body kit on a cart to make it look like a old-school Corvette or if you're a huge sports fan, you can paint your cart your team colors. You can also add in custom seats, canopies, rims, or even add in a row cage.
Customize Golf Cart for Better Comfort:
Some other things that you can do to increase the comfort of your golf cart is adding a air-conditioning system, PlayStation to play video games, a radio, or even a sub-woofer. One good way to stand out from the crowd is to add leather seats to golf cart. You can also customize the suspension to make the ride as comfortable as you like.
We offer golf cart makeovers and we want to help you design your next custom made golf cart. Making over your cart is your artistic signature to everyone you drive around. Most of the people who will see your newly designed golf cart will love it and may even become envious. If you want to makeover your chart, be sure to give us a call.