Yeti Coolers Columbia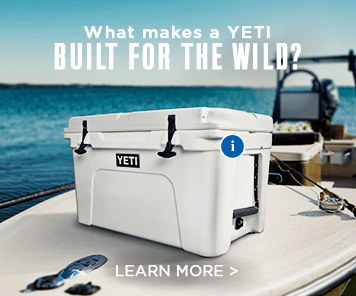 Come Check out our full line of YETI COOLERS.  We carry everything from the 2o qt. Roadie to the 420qt Tundra. 
These coolers are built to be indestructible and keep ice for days.  Built for going toe-to-toe with hungry grizzlies.
Built for the prepared.  Built for better Monday morning water cooler talk.  Built for the long haul.  Built for the wild.
We are your #1 stop for Yeti Coolers!
Check out our full line of Golf Carts and Trailers while you are here as well. 
Pricing:
Roadie Series
20 qt. (white or tan)    $229.99
Tundra Series (all available in white or tan)
35 qt.     $279.99
45 qt.     $329.99
50 qt.    $359.99
65 qt.    $389.99
75 qt.    $429.99
105 qt.  $449.99
110 qt.  $479.99
125 qt.  $499.99
160 qt.  $599.99
250qt.  $799.99
420 qt. $1,299.99
Golf Cart Yeti Coolers: The Reasons You Need One
Yeti coolers are considered by many outdoorsmen to be the absolute best coolers on the market. While they are more expensive than most other coolers out there, most avid sportsmen consider the purchase of a Yeti to be an investment instead of just a regular purchase. Now there are golf cart Yeti coolers that can keep refreshments cold out on the course.
Yeti coolers were invented by two guys who are themselves avid outdoorsmen. They turned their own experiences in the field into a superb product consisting of durability, quality, and simplicity, all combined with features designed with intelligence.
Yeti coolers are designed and made with the same process used to create whitewater kayaks. This process costs more, but creates a cooler that can take whatever nature deals out and still keep working. The Yeti can set records keeping ice frozen because it contains more than twice the insulation of its nearest competitor.
The sturdy, durable design makes the Yeti the obvious choice for sport-fishing, hunting, boating, camping, paddling, tailgating, rafting, and barbecuing. golf cart Yeti coolers are also perfect for keeping the beer, water, and other refreshments cold, even on the hottest day on the course.
The rotational molding process used to create each cooler is what makes a Yeti cooler so strong. This process uses high temperatures and low pressure to mold plastic with a bi-axial rotation producing one-piece parts which are hollow.
Once the mold is completed, the piece is placed into an oven where it is rotated at varying speeds to prevent the powder from concentrating in one spot. As the polyethylene melts, it adheres to the walls of the mold. Once the polyethylene is melted and evenly adhered to the walls, the mold is removed from the oven and cooled. When completely cool, the Yeti cooler is removed from the mold.
This production process has strengths within the design, including strong corners on the outside which handle any type of stress extremely well. It also provides walls of consistent thickness and all in one piece, again providing the utmost in strength and durability.
Labeled as Grizzly Resistant, Yeti coolers are actually tested by a U.S. Forest Service Agency/U.S. Department of Agriculture Committee called the Interagency Grizzly Bear Committee. These tests were done in both wild and controlled settings with real grizzly bears.
This committee published minimum standards for structural strength and design, as well as testing methods and inspection for containers labeled as Bear Resistant. All Yeti coolers met these standards, both in the live bear and engineered tests. As a result, the committee approved all Yeti coolers for use in national parks and on all public lands anywhere grizzlies are found.
Yeti coolers keep ice longer than the typical ordinary ice chest. Just how long a Yeti cooler will keep ice depends upon many factors including the quality of the ice, the type of ice, the quantity of ice, the environment outside, how much direct sunlight, and the size of the cooler.
Some customers report still having ice after a two week river trip, but again there are so many factors which can impact this that it is hard to provide a definite time that a Yeti cooler will keep ice. What can be said is that Yeti coolers have more than two inches of polyurethane foam in their walls and lids, along with a gasket just like a freezer's.
Yeti coolers come in a wide range of sizes from the small, personal size which easily fits into a canoe or kayak, to the mid-sized golf cart Yeti coolers which are not only a perfect fit for a golf cart, but also work for off-roading and boating, and all the way up to the big, heavy-duty Yeti that will hold everything for a week long camping trip or a day's catch from deep sea fishing.
Yeti coolers are the best, most durable coolers available today. When an outdoorsman wants to store his catch or keep his refreshments cold, a Yeti is definitely the right choice.
Stop by or call us today!
Click Here if you wish to see some of our golf carts.