Yeti Cooler Yeti Accessories – Custom Golf Carts Columbia
YETI COOLER – Roadie 20 Cooler
Small but mighty, the YETI cooler Roadie is the best personal cooler you'll ever find to protect your lunch from the ravages of sandwich-soggifying, drink-sweating heat. Built with the same hardy one-piece construction and ice-retaining insulation as our Tundra ice chests, this small personal cooler is equipped with a heavy-duty stainless steel handle for better portability. The Roadie is even grizzly proof, just like its larger Tundra cousins. Take this sturdy little portable cooler with you to the job site, or play hooky and head down to your favorite fishing hole. It's also right at home in a campsite, kayak, canoe, ATV or golf cart. Hitting up a BYOB party, barbecue or restaurant? The small Roadie cooler is the ideal size to BYOB, and the No Sweat Design prevents any embarrassing messes. The unbreakable, self-stopping hinges keep the lid propped open while you fish around for the perfect pairing.
Click HERE for more Yeti Cooler Roadie 20 information.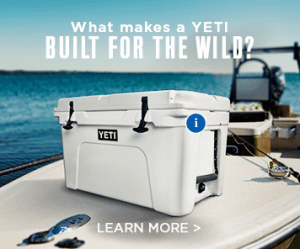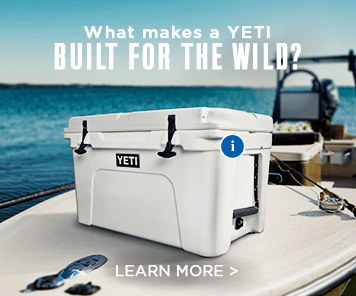 YETI COOLER – Drinkware
YETI Drinkware is as tough as our YETI coolers. The stainless steel, double-wall vacuum insulated Rambler will keep your beverage as cold as science allows. But having the frostiest beer in the world doesn't do you much good if you can't get it open. YETI bottle openers are extra-durable and come in a range of sizes that fit in your pocket, in your bar drawer, and even on your cooler.
Not only will we keep your drink cold, we will provide a cool place to keep it while your busy catching that fish. Great for river trips, camping outings, or tailgates – the YETI Beverage Holder mounts to the side of your YETI Cooler and serves as a secure and convenient caddy for your frosty beverage. Ordinary ice chests often include shallow cup holders in the lid, a feature which is impractical to use when you're having a good time with friends. This heavy-duty, powder coated stainless steel version slides securely into the AnchorPoint™ Tie-Down slot of your YETI Cooler, allowing for easy access to other cooler contents or grabbing a cold-one for a friend.
YETI COOLER – APPAREL AND GEAR
Need more ways to inform everyone around you that you're a proud member of YETI Nation? We've got you covered with a dazzling array of gear, from fashionable-yet-rugged YETI hats and shirts to decals for your car and signs for your wall. Just like our coolers, they're all built to last.
At Custom Golf Carts Columbia, we have all of your YETI needs and more. Ride your custom golf cart with a Yeti Cooler in the back today. Call us today  at (803) 941-7523 to order your YETI gear. If we don't have it in stock we order it for you, free shipping, the same day. Better yet, stop by our showroom at 855 Chapin Rd in beautiful Chapin, SC, today.