What Are Quality Golf Cart Rims?
Quality Golf Cart Rims Explained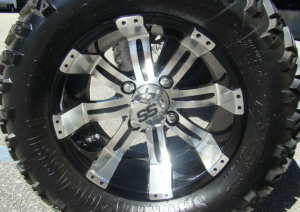 Golf cart rims are an essential component of cart's aesthetic value. If the rims are wonky and don't look right, it will depreciate the value of the cart. It is better to find rims that are meaningful and look great from all angles. Yet, there are so many options out on the market that it can become confusing the find the right solution. Let's take a glance at some of the different types of quality golf cart rims that are out there to choose from. These are just some of the many that are available and can be used.
Aluminum
One of the major options that are available for golf carts come in the form of aluminum rims. These are wonderful because they do not damage as easily and look great from the get go. They come with the right type of finishing that is necessary in the modern age. One of the bigger benefits that is renowned for aluminum rims has to do with its ability to withstand damage and pressure. As the golf cart is going to be used vigorously on the golf course, you want to make sure the rims don't start falling apart.
Mirror Image
Not a fan of the aluminum and its look? This is not the only option out there. There is one of the more modernistic options in the form of mirror image rims. These are still aluminum rims, but they have a different coat of finishing applied to them for aesthetic purposes. What does this mean? There is a glossy finish added on top of the aluminum to make it stand out more and that is great for those golf carts that need a bit more 'oomph' to their appearance. You will be surprised as to what these can do to the look of the golf cart.
Polished Rims
Want something that looks nice at all times and has that polished look? Instead of going for the mirror image option, which can be more reflective in nature, polished as the appeal of both options. You will get the right balance of both worlds with the polished variety.
These polished rims are able to withstand a lot of pressure, while still maintaining this glossy appearance that is needed with some golf carts. These rims have the ability to look great because they are noticeable on the rims and can cover up flaws that might be present with the actual golf cart itself.
Chromed
The final major option is with the chromed finish. If you are gunning for corrosion resistance, this is your main option. Chromed finishing is specifically designed to avoid getting damaged with corrosion. You will be surprised with the results and just adore how the rims look great down the road despite vigorous use. mali Another benefit that comes with these rims has to do with the easiness of cleaning them. It does not get easier than cleaning these rims because their surface is able to withstand dirt on the most part.
Custom golf cart rims are not one of those purchases that are thought about until it is too late. You might go to the store and make a purchase that seems affordable, but in the end it does not have the aesthetic appeal that you were coveting. Bad rims can change the entire complexion of the golf cart and that is a major negative for those who spend a lot of money on the actual cart.
It is better to make a choice that is going to be long-lasting and valuable instead of one that saves money in the short-term. Get the custom rims you want here with us at Custom Golf Carts Columbia.