Husqvarna Christmas Specials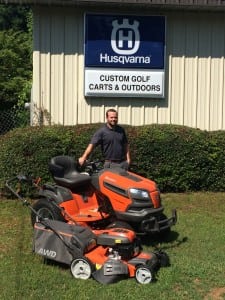 Husqvarna Christmas Specials
Custom Golf Carts Columbia is the #1 leader for Husqvarna Christmas sales, parts and service in beautiful Columbia, SC and the surrounding Southeastern states. We offer a wide selection of new Husqvarna products, parts, service and accessories to meet all our customers' needs at affordable prices.
Custom Golf Carts Columbia has a friendly, knowledgeable staff and a hassle free environment to provide our customers with an easy, convenient buying experience. Browse online at what we have to offer or call us and speak with one of our customer sales representatives.
Custom Golf Carts Columbia prides themselves on having the best prices around. The MSRP (Manufacturer's Suggested Retail Price) pricing provided is for reference purposes only. Actual retail prices are established by the applicable dealer and may vary by location. MSRP pricing is subject to change.
Husqvarna Wish List-Custom Golf Carts Columbia
Custom Golf Carts Columbia has everything you need to get your Huqvarna Christmas shopping done! We have convenient hours and a friendly staff that are ready to help you find exactly what you are looking for.
Click HERE to make your Husqvarna Christmas wish list now!
Husqvarna – Where to find us
We are conveniently located at 855 Chapin Rd in beautiful Chapin, SC. We are open Monday-Friday 8:30-5:30 and Saturday 9-3 to help you get your Christmas shopping done! Call and ask to speak with one of our sales representatives to answer any and all of your questions to ensure you get exactly what is on your loved one's wish lists!