Golf Carts Charleston SC – Why shop with us?
Custom Golf Carts Columbia is the #1 leader for custom golf carts Charleston SC! We offer sales, parts and service in beautiful Columbia, SC and the surrounding Southeastern states. We offer a wide selection of new and used golf carts, parts, service and accessories to meet all our customers' needs at affordable prices. We can adapt any golf cart to your specific interests and offer all parts and servicing you may need to keep your cart running at top performance.
Custom Golf Carts Columbia has a friendly, knowledgeable staff and a hassle free environment to provide our customers with an easy, convenient buying experience. Browse online at what we have to offer or call us and speak with one of our customer sales representatives. Click HERE to view our full inventory now.
Golf Carts Charleston SC – About us
At Custom Golf Carts of Columbia we specialize in building the cart that is right for your life style.  People use golf carts in various ways, whether it be hunting, gardening, neighborhood transportation, business use, or pleasure. We build them from mild, to WILD. You can select your own color, wheels and tires, seats and all the accessories that you can think of.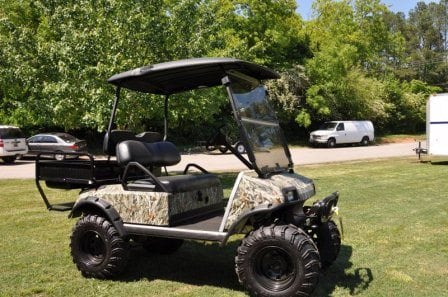 We also build golf carts to fit your budget. When you build your own cart, you select the accessories which results at the price you want, and no add on fees and parts will ever be used so no higher prices for the customer. Our most commonly asked  builds are Club Car Precedents, including a flip down rear seat, windshield, light package and painted whatever custom color you desire, whether it is pink, green, blue, black, white, orange, yellow, or any color.  You can also add lift kits from 3 inches to 6 inches to allow clearance for 23 inch tires, whether you need them for the mud or cruising the streets in style. No matter what your golf cart is being used for, the neighborhood, farm, hunt club, etc, we've got you covered!!
Custom Golf Carts Columbia
855 Chapin Rd.
Chapin, SC 29036
803-941-7523
Golf Carts Charleston SC – Raving Reviews
Custom Golf Carts Columbia prides ourselves on turning our customers into family. We have a 4.4/5 on google and Facebook. See for yourselves why Custom Golf Carts Columbia should be your first golf carts Charleston SC choice!
-"Honest people that do exactly what they say they will. My family loves our golf cart. They always get the service done in a timely manner, too." –  Nikki
-"Review is a little late but better late than never! My boyfriend and I bought a cart from them back in the spring. We looked at every place in Columbia. When we talked to Mike (I think was his name) our search was over! He explained everything to us so we would understand. He seemed to have knowledge of golf carts beyond bolting parts on to make them look pretty. Our cart was delivered when they said and was better than we expected. Oh and the price was better then the other too." – Molly
-"These guys are great, bought a fantastic cart in February 2016. Got a great price and the people there are easy to work with, have already recommended them to friends." – Stephen