Golf Cart Service Near Me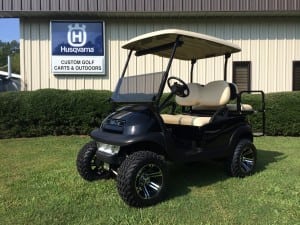 Golf Cart Service – Why we're #1
The Service Department at Custom Golf Carts Columbia is unmatched.  We continually provide our customers with the best, timely, most convenient service available.  Most repairs can be completed on-site by our certified mechanics in our fully stocked repair center.  We service all Brands of Electric and Gas Golf Cars, Utility Vehicles and Chargers.
We recommend an annual service to be performed on all golf carts and utility vehicles to protect your investment and prolong the life of the equipment.
To get a free quote or make a golf cart service appointment, call (803) 941-7523 to contact one of our Service Managers, today!
Golf Cart Service – Our promise to you
Custom Golf Carts Columbia is your #1 shop for unparalleled service when you need golf cart service, repair, custimazation, rebuild, or refurbishing. Our golf cart service department is available at all times to address the smallest of your queries. If your golf cart has been malfunctioning on the field or not running properly, just schedule a check by one of our expert technicians. They can assist you with checking gas and air filters, belts, oil levels, proper operation and speed, and battery terminal coatings among many other possibly dysfunctional components of your cart. Other potential problems your equipment could be facing include insufficient battery water, dirty connections to the battery, lack of lubrication in switches and control links, and maladjusted brakes.
Our experienced staff understand that our customers are busy people with several commitments. Thus, we take the responsibility of making sure your cart's always good to go when you're out for some golf or just cruising the area. Besides that, golf cart service maintenance checks are recommended by industry experts to be conducted on a regular basis.  We offer the best golf cart service and repair rates in town. We even offer replacement parts and even options to customize for all brands listed above and many more!
Click HERE to view comments from our satisfied customers.
Golf Cart Service – Where we are located
Custom Golf Carts Columbia has been locally owned and operated by Stephen Shealy, Chapin native, since 2011. Located at 855 Chapin Rd, Chapin, SC 29036, Custom Golf Carts Columbia is open Monday – Friday 8:30 – 5:30 and Saturday from 9 – 3.
Call (803) 941-7523 or stop by today! Click HERE to contact us now!