Golf cart deals South Carolina
Golf Cart Deals – South Carolina
Custom Golf Carts Columbia is the #1 leader for custom golf cart deals, sales, parts and service in beautiful Columbia, SC and the surrounding Southeastern states. We offer a wide selection of new and used golf carts, parts, service and accessories to meet all our customers' needs at affordable prices. We can adapt any golf cart to your specific interests and offer all parts and servicing you may need to keep your cart running at top performance.
Custom Golf Carts Columbia has a friendly, knowledgeable staff and a hassle free environment to provide our customers with an easy, convenient buying experience. Browse online for golf cart deals and what we have to offer or call us and speak with one of our customer sales representatives.
Click HERE to see some of our inventory now!
Golf Cart Deals – Where are we located?
Custom Golf Carts Columbia is conveniently located off of I-26 in Chapin, SC at 855 Chapin Rd, Chapin, SC 29036. We are open Monday through Saturday for your convenience. Not only can you call us for your golf cart deals and sales, but we offer the best prices in town on repairs and parts. Call one of our certified representatives today at (803) 941-7523 today to ask us about our services!
Our experienced staff understand that our customers are busy people with several commitments. Thus, we take the responsibility of making sure your cart's always good to go when you're out for some golf or just cruising the area. Besides that, golf cart service maintenance checks are recommended by industry experts to be conducted on a regular basis.  We offer the best golf cart service and repair rates in town. We even offer replacement parts and even options to customize for all brands listed above and many more!
Golf Cart Deals – About Us
At Custom Golf Carts Columbia, we specialize in building the cart that is right for your life style.  People use golf carts in various ways, whether it be hunting, gardening, neighborhood transportation, business use, or pleasure. We build them from mild, to WILD. You can select your own color, wheels and tires, seats and all the accessories that you can think of.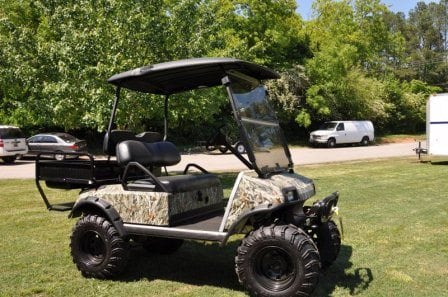 We also build golf carts to fit your budget. When you build your own cart, you select the accessories which results at the price you want, and no add on fees and parts will ever be used so no higher prices for the customer. Our most commonly asked  builds are Club Car Precedents, including a flip down rear seat, windshield, light package and painted whatever custom color you desire, whether it is pink, green, blue, black, white, orange, yellow, or any color.  You can also add lift kits from 3 inches to 6 inches to allow clearance for 23 inch tires, whether you need them for the mud or cruising the streets in style. No matter what your golf cart is being used for, the neighborhood, farm, hunt club, etc, we've got you covered!!