Golf Cart Custom Paint Job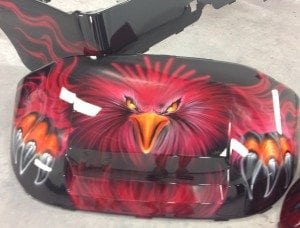 Golf Cart Custom Paint Job –
The option of using our golf cart custom painting service (painting, airbrush or hydrographics) is for those who want to change the way their golf carts look. It is a topic that has been gaining a lot of popularity ever since people started customizing golf carts. If you would like to know more about this service then we heavily suggest that you continue reading for more information. Call us for a quote today!
Custom Golf Carts Columbia
855 Chapin Rd.
Chapin, Sc 29036
(803) 941-7523
Custom Paint Golf Cart Bodies
You first have to understand that your cart doesn't have to remain with the same, dull-looking colors it came with from the manufacturers. Professionals who do works like hydrographics, airbrushing, and painting can re-colour your cart's body into a plethora of custom colors of your choosing. There is the option of DIY (do-it-yourself) but that would require you to have equipment, skill, lots of time, and might end up costing you more than you expected as well as the job looking terrible.
A custom hydrographics paint job, done on your cart, can help you tell other people about a brand or service you want to advertise. The text of your message can be intricately woven into the color scheme of your cart making it look professional and very smart.
Golf Cart Custom Paint Job – The sky is the limit
This might be the best part about custom paint jobs. The professionals who do the golf cart custom paint jobs are so flexible and versatile in their profession, they offer you a lot of option on which direction your custom paint job is going to follow. You should look at the word "custom" and think of the word "personalization" because this is what we offer you.
Ask us if we can handle your cart model. Ask us for some examples of what a golf cart custom paint job would look like and what colors we have.
We can be very flexible with your customization. You shouldn't have to do all the work when there are designers with creative ideas on how to customize your cart. You really should take advantage of our skills, offers, discounts, services, paints, and any other golf cart related merchandise we have to offer.