Club Car Golf Carts That Are Tough And Street Legal
Club car golf carts are more than just your ordinary buggy to chug along in on the golf course on your own or with one passenger. Today's models are versatile and pack enough power for use on a hunting trip, or for a cruise over sand dunes on the beach with friends and family.
Club Car manufactures club car golf carts that deliver quality, safety, reliability, durability and style with models that meet the requirements of environmentally and financially smart individuals. Custom Golf Carts Columbia offers a wide selection of custom club car golf carts.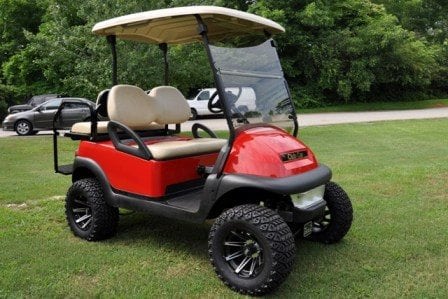 XRT1500
XRT1500 club car golf carts are made from aircraft grade aluminum and the SE model comes with two rows of forward facing seats to carry more passengers. The hydraulic brake system makes it a safe vehicle to drive anywhere with confidence.
The world class feature set is now combined with a quick change, exclusive tool attachment system, IntelliTach, which has revolutionized the utility industry.
XRT950
The XRT950 has superior value as the only golf cart in its class with independent rear suspension and has many features that are found only on larger utility vehicles.
XRT800
The XRT800 model is easy to navigate on narrow trails as well as wide open spaces. Its compact size can fit onto the back of a regular pickup and it can go places where other utility vehicles are unable to go.
The XRT800 is a street legal vehicle and its quiet operation makes it the perfect to small car to drive to the golf course or to the gym. The battery is easy to recharge and costs pennies to run.
Precedent i2 Signature
The latest edition of Precedent offers a wider color range with a choice of burlwood, accent stripes or carbon fiber dash with a hinged windshield.
Precedent 2+2
The 2+2 can take two passengers comfortably and the versatile, re-manufactured Precedent 2 in 1offers room for two more. Drive yourself and three companions around the yard on the farm or take to the woods.
Precedent XF 2 in 4
For work or play, this dependable and fun to drive vehicle takes four and the flip rear seat allows you to carry large cargo.
Precedent 4-Passenger
You can take up to four passengers with you in the Precedent 4 Passenger to enjoy its unique sense of style, comfort and safety. This golf cart is more capable and efficient than ever before with features that have been designed with your requirements in mind.
Villager 2+2
The Villager 2+2 model meets NHTS standards, making it ideal to take your neighbors along on an everyday excursion.
Villager 2+2LSV LX
This model will fit perfectly into your mobile lifestyle and is the environment and the financially smart way to take short trips to the supermarket or other local trips. As the most advanced golf cart ever built, it has set the standard for performance and style with a long running success that has inspired others in the industry to imitate it.
Villager 4
Of all the golf carts, this is the most economical vehicle Club Car sells, in gas or electric models that are safe, comfortable and reliable.
Villager 6
The Villager 6 will carry six passengers and has the added feature of a rear seat fold-down option for extra cargo space.
Villager 8
For large groups such as shuttles, tours and resort transportation it is ideal for commercial application, seats up to six passengers and has an optional 300-pound capacity cargo bed for gear and equipment.
For more options visit Club Car on their website where they offer the widest range of club car golf carts, backed by their 2-year industry best warranty.