Beaufort golf cart sales – why buy a custom golf cart?
Customizing your Beaufort golf cart (painting, airbrush or hydrographics) is for those who want to change the way their golf cart's look. It is a topic that has been gaining a lot of popularity ever since people started customizing their own golf carts. If you would like to know more about this service then we heavily suggest that you continue reading for more information. Call us for a quote today! Click HERE to find out more about our custom paint options. The "before" and "after" look of your Beaufort golf cart will simply amaze you when you use the services of professional custom golf cart painters. We have a full selection of custom golf carts from most major manufacturers. We can custom create your golf carts with lift kits, rims, paint jobs, gills, gun racks and more.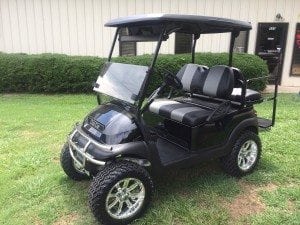 Beaufort golf cart – What does Custom Golf Carts Columbia offer?
Custom Golf Carts Columbia is your #1 shop for service when you need golf cart service, repair, customization or rebuilding. Our Beaufort golf cart service department is available to address any of your concerns. If your golf cart has been acting up on the field or not running properly, just schedule a check by one of our expert technicians. They can assist you with checking gas and air filters, belts, oil levels, proper operation and speed, and battery terminal coatings among many other possibly dysfunctional components of your cart. Other potential problems your equipment could be facing include insufficient battery water, dirty connections to the battery, lack of lubrication in switches and control links, and maladjusted brakes. Our experienced staff understand that our customers in Beaufort are busy people with several commitments. Thus, we take the responsibility of making sure your cart's always good to go when you're out for some golf or just cruising the area. Besides that, golf cart service maintenance checks are recommended by industry experts to be conducted on a regular basis.  We offer the best Beaufort golf cart service and repair rates in town. We even offer replacement parts and even options to customize for all brands listed above and many more!
Beaufort golf cart – Where is Custom Golf Carts Columbia located?
Custom Golf Carts Columbia is centrally located in Chapin, SC, right outside of Columbia. We service all of the Midlands, Irmo, Lexington, Newberry, Dutch Fork and all of the surrounding cities on a daily basis. We also offer delivery and pick up services for an additional fee. We are open Monday through Friday 8:30 – 5:30 and Saturday 9 – 2. Conveniently located off of I-26 and close to I-20 and I-77, Custom Golf Carts Columbia is here for you to make your trip as efficient as possible. Visit us online at www.customgolfcartscolumbia.com or call us at (803) 941-7523 for all of your Beaufort golf cart sales and service needs!
855 Chapin Rd.
Chapin, SC 29036